WHAT IS INTEGRATIVE TOUCH™?
ITK's founder was inspired to create a unique therapy called Integrative Touch™ that is changing the way children and families are being treated in hospitals and outpatient clinics. Integrative Touch™ is a healing framework and hands on therapeutic approach that allows participants to focus on the things that they most want to heal in their lives at a mind, body, spirit level. Integrative Touch™ therapists work in teams to establish a healing framework that is client centered. An Integrative Touch™ session typically begins with the participant and therapists connecting with one another and determining the direction that the session will take. When possible, the question will be posed, "What would you most like to heal right now?" and a conversation will ensue.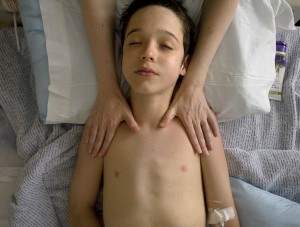 With infants and young children, or those who communicate non verbally, the direction of the session can be established through body language and energetic cues. Therapists work to identify the point of greatest suffering so that it can be seen and released. A central principle of the work is that the participant holds the key to their own healing, even if they haven't been able to readily identify it. Therapists work to reveal the inner intelligence that the participant already holds, allowing them to open their door to healing.
We are gratified that our two largest programs—Healing Retreats and the Integrative Touch™ Hospital Program—are using Integrative Touch™ and paving the way to help thousands of kids and families, both in Tucson and nationally. The overwhelming response to both the Healing Retreats and Hospital Heroes programs from kids, families, hospital staff, and volunteers has inspired ITK to lay the groundwork for these programs to be replicated. We are working with the University of Arizona's Eller School of Management to develop easily replicable program models. ITK's program growth directly supports our mission to change how kids and families experience health and healing, so they can heal and thrive together even in difficult times.  Data from our Hospital Heroes Program shows fantastic results after receiving Integrative Touch™!
§  62% reductions in Anxiety
§  60% reductions in Pain
§  52% improvements in Global Well-Being
§  95% of program participants rate their satisfaction 8, 9 or 10 out of 10
§  86% rated their satisfaction a perfect 10 out of 10
§  85% would definitely recommend this hospital after receiving Integrative Touch™ therapy